For more then 18 years we want to make travelers feel at home on our 7 ha farm. Once you get here you will find that this is not one of the usual stop over places you do normaly come across. Forget about driving all those kilometers you have planned to travel today. Give yourself a rest and park for a while. Have a sauna and a swim in the river, something nice and tasty to eat, a drink or two. The road is not disappearing today, You are allowed to relax while on holiday. Meet the locals at the bar to get a proper insight of what the West Coast is all about. Feel free to pitch tent or park up the campervan on the farm. We can offer a variety of activities, hints and suggestions to make your holiday the way you want it to be.
Enjoy a strong cup of coffee wholesome food in the beautiful scenery of the Westcoast. We aim to use our own, or local organicaly grown veges for the cooking. Choose from a variety of tasty meals, that will leave your stomach in a satisfied mood. If you feel like a drink afterwards, the bar and beer garden is open to serve you, while the music is playing the latest international tunes. Go for a walk and visit the cave or the waterfall, the track starts right at the premises. And at the end of the day, if you feel you don't want to go anywhere, you will find rest in one of the cosy double rooms, Overlooking the Paparoa mountain range. See ya soon....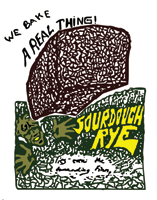 German Style Sourdough Rye bread
All rye meal, flour, kibbled, cereals, malt, salt spices Wheat and baker's yeast free & Wholemeal Wheat Bread Baked twice a week.